five plus one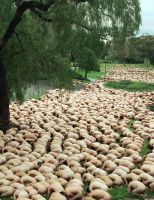 the challenge has been out there in the blogosphere to identify the five things you just don't get. okay, i've thought about it and here are five of mine (not in order of importance…)
1) why it is so difficult for people to stop doing things that they know from first-hand experience only lead to personal pain.
2) why people perceive negativity and cynicism as indicators of greater intelligence.
3) why, having been given dominion over all the earth, people still see each other as the final frontier, setting out to conquer their fellows rather than celebrating the diversity of others and reaping the benefits to be gained from valuing one another.
4) why people seem to always put faith and reason on opposite sides of a theosophical continuum. we need to be able to do battle in both arenas and know, in fact, which fights are being held where.
5) why it is so difficult for people to converse with others of differing perspective without trying to either sell them something they don't want (or see the need for) or convince them to move... in other words, without turning the conversation into one of those battles mentioned above. there would probably be a lot more interesting conversation taking place if people knew that their perspective was going to be respected even by those who held different views. we might all actually become smarter and wiser.
(6) why i am better at writing these words than living them.