funny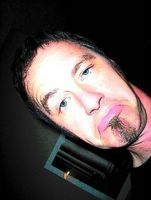 funny how God works sometimes...
when i enroled in bible school during the fall of '83, i thought that i was basically signing on for a year of camp- that and the hope of meeting other musicians withwhom i would launch my big recording career. not exactly the best reasons to go, but whatever.
i remember telling my girlfriend at the time to quit fretting because it's not like i was going off to find a wife or something.
we never kissed again.
in fact, i was basically dead wrong on all counts. funny how God works sometimes.
yet, after a year and a half of it with limited academic success i realized that, although i had met a beautiful girl and fallen in love, i was not going to be a preacher or a missionary or a youth pastor and so any further time there would be wasted. i enroled in university in the faculty of education and got on with life. married in 85 and graduated in 88... been married and teaching ever since.
funny how God works sometimes.
about five years ago, God said 'okay, you've had your fun- now let's try this again.' i found myself once again taking classes and asking myself 'if God were to call you here, could you move here?' on holidays. mrs jollybeggar was thinking the same things at the same time.
this and that happened and today i sit in my office at the church, reflecting upon having just finished doing the youth pastor thing at a camp, and suffering a bit of anxiety on the eve of a missionary trip to sri lanka. the only real bummer on this one is that mrs jollybeggar won't be able to accompany me on this trip. however, i know that there will be others...
funny how God works sometimes.
(i say all this to say that i won't be posting anything until the end of august. shalom)